---
---
Practice Schedule
Schedule Reminders
 
 
Next ICSM (Inter-City Swim Meet) Saturday, April 26 @ Millbrook Pool 2pm-5pm. Volunteers needed. If interested in helping out, please contact Sue Haugh at This email address is being protected from spambots. You need JavaScript enabled to view it. .
 
 
Pullen Aquatic Center to Close for Renovations
 
 
The City of Raleigh will be closing Pullen Aquatic Center from May 19, 2014 until October 27, 2014 for renovations and upgrades to the HVAC system. Please click here to see the changes in our 2014 Summer Practice Schedule.
 
 
Morning Workouts
Saturday
Apr
19
8:00am
Pullen
Sunday
Apr
20
8:00am
No Practice - All City Pools are Closed
Monday
Apr
21
5:30am
Pullen
Wednesday
Apr
23
5:30am
Pullen
Friday
Apr
25
5:30am
Pullen
 
Evening Workouts
Monday
Apr
21
6:45pm
Millbrook
Tuesday
Apr
22
6:45pm
Pullen
Wednesday
Apr
23
6:45pm
Millbrook
Thursday
Apr
24
6:45pm
Pullen
---
Special Events
2014 NC SCY State Championships
2014 Dixie Zone SCY Championships

March 29-30 2014
Triangle Aquatic Center
Cary, North Carolina
Raleigh Area Masters hosted the 2014 North Carolina State and Dixie Zone Short Course Yards Championships. The meet was held Saturday, March 29, 2014 and Sunday, March 30, 2014 at the Triangle Aquatic Center in Cary, North Carolina. The Dixie Zone includes masters swim teams from all over the southeast including North Carolina, South Carolina, Georgia, Florida, Louisiana, Mississippi, Tennessee and Alabama.

The Raleigh Area Masters Organization would like to thank all the officials, TAC personnel, and everyone that volunteered their time to make this meet a success. The meet is not possible without you! Also, thank you to the nearly 200 swimmers that came from near and far to compete. If you would like to give us your feedback on how the meet was run or feedback on the facilities please email our meet director at This email address is being protected from spambots. You need JavaScript enabled to view it. . We would appreciate any feedback you would like to share to make future meets even more successful.
The meet results have been posted. Click here to see a copy of the results in pdf format.
---
NC Swimmers Break Womens 200 Freestyle Relay World Record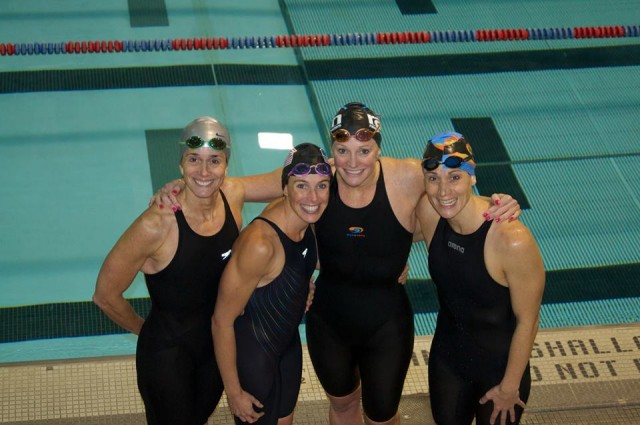 The relay team pictured above of Sue Walsh, Jennifer Stringer, Alicia Uhl, and Erika Braun beat the previous FINA Masters world record of 1:49.41 by almost 1.5 seconds with a 1:48.08.
Click here to see an article in SwimSwam.com about their accomplishment.
---
---
RAM Sponsored Stroke Clinic
RAM swimmers and coaches had the pleasure of working with the director of Aquatic Edge, Karlyn Pipes. Below are a few pictures showing just how much fun we all had. Thank you Karlyn.

RAM holds a stroke clinic the second Saturday of each Month.