---
---
Practice Schedule
Schedule Reminders
 
 
Stroke Clinic has been changed to March 15th due to pool change.
 
 
 
 
As a friendly reminder, it's that time of year again to register for USMS swimming. You can click here to visit USMS website or you can visit our fees page for more information and links to update your registration.
 
 
---
Special Events
Raleigh Area Masters to host
2014 NC SCY State Championships
2014 Dixie Zone SCY Championships

March 29-30 2014
Triangle Aquatic Center
Cary, North Carolina
MEET REGISTRATION OPEN!!!
Raleigh Area Masters has been selected to host the 2014 North Carolina State and Dixie Zone Short Course Yards Championships. The meet will be held on Saturday, March 29, 2014 and Sunday, March 30, 2014 at the Triangle Aquatic Center in Cary, North Carolina. The Dixie Zone includes masters swim teams from all over the southeast including North Carolina, South Carolina, Georgia, Florida, Louisiana, Mississippi, Tennessee and Alabama.
Plans for the meet have been finalized and entry information and on-line registration can be found by clicking here.
A $40 early bird registration will be accepted until 11:59 pm EST 2/28/2014. After 2/28, the fee is a $50 flat rate and will be accepted until 11:59 pm EST 3/26/2014. There is no charge for relays. There will be no refund unless the meet is cancelled, in which case $10 of the fee paid will be retained, and the remainder will be refunded. The late entry fee is $60.
A dinner social will be held 30 minutes immediately following the conclusion of Saturday's events at the pool. A catered pasta buffet with salad and drinks will be served. Tickets are available for $18. A limited number of tickets will be available the day of the meet, so be sure to sign up when registering for the meet.
A commemorative T-shirt will be available through your online registration for $12.00 per shirt. This shirt is being designed by a local graphic artist.
Award certificates will be available to each participant. Awards will be given to individuals with the highest points in each age group, male and female. There will also be team awards for first through third place for the Dixie Zone meet. A separate score will be tallied for in-state workout groups to determine the NC State SCY Champion.
RAM Coaches Sue Haugh and Steve Weatherman will be co-directing the meet. If you have any questions concerning the meet the contact information is This email address is being protected from spambots. You need JavaScript enabled to view it. .
RAM swimmers who are not planning to swim in the meet are encouraged to volunteer to help by working at the meet as a timer, runner or help with registration of swimmers.
---
NC Swimmers Break Womens 200 Freestyle Relay World Record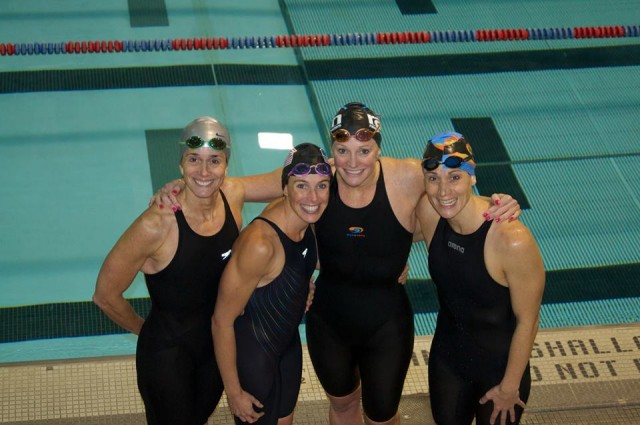 The relay team pictured above of Sue Walsh, Jennifer Stringer, Alicia Uhl, and Erika Braun beat the previous FINA Masters world record of 1:49.41 by almost 1.5 seconds with a 1:48.08.
Click here to see an article in SwimSwam.com about their accomplishment.
---
---
RAM Sponsored Stroke Clinic
RAM swimmers and coaches had the pleasure of working with the director of Aquatic Edge, Karlyn Pipes. Below are a few pictures showing just how much fun we all had. Thank you Karlyn.

RAM holds a stroke clinic the second Saturday of each Month.